stephenhongsohn
Asian American Literature Fans – Megareview for September 28, 2017
School is back in session, which means we're all going to be reading, at least for our classes, right? In this post, reviews of:
(1) Patty Yumi Cottrell's Sorry to Disrupt the Peace (McSweeney's, 2017).
(2) David Mas Masumoto (with Nikiko Masumoto)'s Changing Season: A Father, A Daughter, A Family Farm (Heyday Books, 2016).
(3) Omar El Akkad's American War (Knopf, 2017).
(4) Yiyun Li's Dear Friend, From My Life I write to You in Your Life (Random House, 2017).
(5) Sherman Alexie's You Don't Have to Say You Love Me: A Memoir (Little, Brown and Company, 2017)
(6) Joy Kogawa's Gently Toward Nagasaki: A Spiritual Pilgrimage, An Exploration Both Communal and Intensely Personal (Caitlin Press, Inc., 2017).
(7) Tarun Shanker and Kelly Zekas's These Ruthless Deeds (Swoon Reads, 2017).
(8) Riley Redgate's Noteworthy (Harry N. Abrams, 2017).
(9) Jomny Sun's Everyone's a Aliebn When Ur a Aliebn Too: A Book (Harper Perennial, 2017).
(10) Ausma Zehanat Khan's Among the Ruins (St. Martin's, 2017).
A Review of Patty Yumi Cottrell's Sorry to Disrupt the Peace (McSweeney's, 2017).




What a quirky, melancholic debut novel we have from Patty Yumi Cottrell, which is titled Sorry to Disrupt the Peace (McSweeney's, 2017). We'll let B&N do some work for us as per usual: "Helen Moran is thirty-two years old, single, childless, college-educated, and partially employed as a guardian of troubled young people in New York. She's accepting a delivery from IKEA in her shared studio apartment when her uncle calls to break the news: Helen's adoptive brother is dead. According to the internet, there are six possible reasons why her brother might have killed himself. But Helen knows better: she knows that six reasons is only shorthand for the abyss. Helen also knows that she alone is qualified to launch a serious investigation into his death, so she purchases a one-way ticket to Milwaukee. There, as she searches her childhood home and attempts to uncover why someone would choose to die, she will face her estranged family, her brother's few friends, and the overzealous grief counselor, Chad Lambo; she may also discover what it truly means to be alive." I think the element that will strike me as the most complicated issue that the novel brings up is actually related to narrative tone: I couldn't always make sense of the narrator and protagonist, who at times comes off as abrasive and unrelenting and at others completely earnest and forthright. I couldn't sometimes tell if we were dealing with an unreliable narrator or if the narrative itself was pitched in a semi-realistic world in which all the characters were somewhat caricatured or hyperbolic in their presentation. In any case, once Helen gets home and is settling in with her adoptive parents, it's really clear that there's incredible strain between her and these guardian figures. The narrator spends her time interviewing various people in order to find out if they knew anything about her brother, but she often causes them to be uncomfortable with her strange personality and in-your-face questions and musings. She seemed at times a little bit "tone deaf," but there is a fairly incredible shift in both her character and the novel itself once the last fifty or so pages hit. I wasn't sure what to make of the resolution, which certainly the reader needed, though for consistency's sake did not necessarily match the tone that Cottrell began the novel with. Nevertheless, I appreciated Cottrell's deft handling of suicide as a general topic, which shows both restraint and verve in the characterization (and development) of Helen's brother. The other issue that the novel grapples with is issues of family and kinship, especially as they exist as a kind of conundrum for the Korean American adoptee. In this case, Helen and her brother both take very different approaches to their adoptive and biological families. Whereas Helen seems to have more an escapist approach, having little interest in seeking out her birth parents and wanting little to do with her adoptive parents once she has established her own life, Helen's brother stays at home and also attempts to locate his biological family. This divergence presents us with an opportunity to consider this adoptee figure from multiple angles, allowing readers a chance to engage in the complicated dynamics of family constructions. Overall, an unconventional and auspicious debut!
Buy the Book Here:
https://www.barnesandnoble.com/w/sorry-to-disrupt-the-peace-patty-yumi-cottrell/1124463825
A Review of David Mas Masumoto (with Nikiko Masumoto)'s Changing Season: A Father, A Daughter, A Family Farm (Heyday Books, 2016).



I've been acquainted with David Mas Masumoto's work for some time, as he is the writer of a popular column that appears in the Fresno Bee and from which a number of his books are drawn. I hadn't had a chance to read his latest, which is partially written with his daughter Nikiko Masumoto: Changing Season: A Father, A Daughter, A Family Farm (Heyday Books, 2016). This creative nonfiction also became the partial basis for a documentary; you can see the trailer here:
http://www.latimes.com/food/dailydish/83373344-157.html
Here, I am also employing an editorial description from kobo.com for the book itself: "How do you become a farmer? The real questions are: what kind of person do you want to be? Are you willing to change? How do you learn? What is your vision for the future? In this poignant collection of essays, Epitaph for a Peach author David Mas Masumoto gets ready to hand his eighty-acre organic farm to his daughter, Nikiko, after four decades of working the land. Declaring that 'all of the gifts I have received from this life are not only worthy of sharing, but must be shared,' Mas reflects on topics as far-ranging as the art of pruning, climate change, and the prejudice his family faced during and after World War II: essays that, whether humorous or heartbreaking, explore what it means to pass something on. Nikiko's voice is present, too, as she relates the myriad lessons she has learned from her father in preparation for running the farm as a queer mixed-race woman. Both farmers feel less than totally set for the future that lays ahead; indeed, Changing Season addresses the uncertain future of small-scale agriculture in California. What is unquestionable, though, is the family's love for their vocation--and for each other." I think this description does a fine job of rendering the larger themes that are central and thread through the many essays. It's generally difficult to hazard a real timeline because the essays or prose blocks are relatively short in their form, usually about 3 to 4 pages. What stands out is obviously Masumoto's absolute adoration of his work, his commitment to organic farming, and the love he has for the genealogy that links him with multiple generations of agriculture. You also get a sense that Masumoto is being especially philosophical because he is seeing the cycles of change, the titular changing season as it were, as a metaphor for the fact that his life is limited. Never is this fact more apparent than in the concluding sequence, and we begin to see why Nikiko's perspective is so important. Not only does she provide us with the continuing genealogy of the Masumoto farming, but she is also helping us detail how her father is becoming a little bit more frail, a little bit more prone to health problems. This process is one that Masumoto himself notes about his own father, detailing his father's stroke and the change that it required in family caretaking. Nikiko's education and schooling provide her with a perspective, too, that shows us where the future of the Masumoto farm may go, especially because there is a sense that agricultural production cannot ever be divorced from a larger political context. If there is any minor critique I have of this wonderfully compact creative nonfiction, it's that I desperately desired more of Nikiko's voice. Certainly, Masumoto himself is well-regarded not only as a farmer, but as a prose stylist. His writing is as lush and as flavorful as the peaches, raisins, and nectarines he harvests. There was a point where I was getting up every half an hour to get a snack, even though I wasn't even hungry. This impulse was no doubt influenced by the constant references to variations of peach dishes: peach cobblers, pies, peach encrusted with panko bread crumbs, sweet peach dishes and savory peach dishes…. Man, I want some peaches right now. At the same time, the balance that Nikiko's writing provides is intriguing; let's hope that more future collaborations are in store.
Buy the Book Here:
https://heydaybooks.com/book/changing-season/
A Review of Omar El Akkad's American War (Knopf, 2017).
So, this novel has definitely been on my to-read list this year. Let's let B&N give us a pithy overview: "Sarat Chestnut, born in Louisiana, is only six when the Second American Civil War breaks out in 2074. But even she knows that oil is outlawed, that Louisiana is half underwater, and that unmanned drones fill the sky. When her father is killed and her family is forced into Camp Patience for displaced persons, she begins to grow up shaped by her particular time and place. But not everyone at Camp Patience is who they claim to be. Eventually Sarat is befriended by a mysterious functionary, under whose influence she is turned into a deadly instrument of war. The decisions that she makes will have tremendous consequences not just for Sarat but for her family and her country, rippling through generations of strangers and kin alike." I have to admit: I sort of found this description to be lackluster. After all, Omar El Akkad's debut novel American War has a fairly complicated backstory to it, involving a future in which the United States has broken up into various regions and remains at war. El Akkad was obviously channeling the possibility of what Civil War would look like if it broke out again; apparently, that war would be similarly fought along regionalist lines. But, it wasn't always clear to me exactly what precipitated the problems between the various sectors and regions of the United States. Further still, there are many other empires and international conglomerates that seem to have formed in the time being that drive the plot in ways I could not fully understand. It may be that I was reading a little bit too quickly, but another issue that arises is that El Akkad juggles two very different scales in this book. The most prominent narrative involves the one in the description: Sarat Chestnut, our ostensible anti-heroine, becomes a kind of assassin trained by a mysterious, but well-connected man named Albert Gaines. Eventually, though, Sarat is captured and tortured under horrific circumstances; though she survives her ordeal, she is obviously very scarred, so much so that when an opportunity presents itself to throw America into chaos again, she is willing to brave that possibility precisely because she wants a very personal form of revenge. What is most compelling about the work is the careful attention that El Akkad gives to the many contours of Sarat's damaged psyche: we still find we are willing to understand her actions, even when she takes the rather extreme measure to exact her own retribution. The final arc of the novel is perhaps the strongest because El Akkad shifts the narrative to the perspective of Sarat's nephew. This first person viewpoint allows us to sympathize with Sarat, even as the novel hurtles toward its infectious climax. But, the larger historical and international forces shaping the antagonisms involving nation-states and other such entities sometimes recede into the background, even as Sarat's stratagem obviously possess large-scale impacts. Thus, the local and personal reverberate against the transnational and global, but often in an unbalanced equilibrium. A compelling, if uneven debut.
Buy the Book Here:
https://www.barnesandnoble.com/w/american-war-omar-el-akkad/1124650253
A Review of Yiyun Li's Dear Friend, From My Life I write to You in Your Life (Random House, 2017).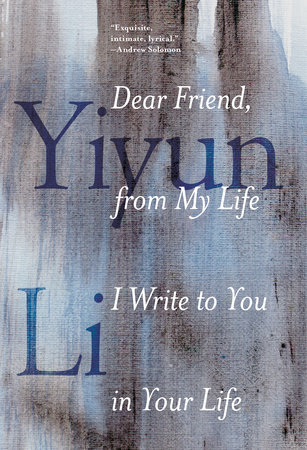 I've been reading a lot of memoirs and creative nonfiction lately; I've been gravitating to them for some reason I can't quite explain. One of the publications I have been most excited about is Yiyun Li's Dear Friend, From My Life I write to You in Your Life (Random House, 2017). I have read all of Li's four previous publications, two short story collections and two novels. I have taught selections from them in the past, but I was totally unprepared for the incredible difference in style and tone that would appear in this work. It's probably something I should have been more cognizant of, especially since Li herself will remark that there is so often an incredible gap between a writer's creative compositions and the personal letters and diary entries she might also produce. Much of this collection of essays deals with Li moving through the letters, diary entries, and ephemera composed by famous writers (especially Katherine Mansfield, Virginia Woolf, Ernest Hemingway, Marianne Moore, and others). Interwoven throughout these musings, Li also touches upon mental illness, her own suicide attempts, and her complicated trajectory as a transnational writer who decides to write in a non-native language. From a personal perspective, what struck me as most poignant was the ways in which Li is coming to terms with her desire to use writing as a method to deal with issues of attachment. With characters, as Li reminds us, there is no worry about how those characters will ultimately relate to you, because the actual writer has no actual place in that fictional world. In this sense, though she can tirelessly devote herself to the creation and to the contours of these characters, she does not have to worry about a mutual dynamic of care. This sort of relationship is one that fills her with incredible ambivalence and torture in the so-called actual world: how does one live without feeling attached, without having desire, Li wants to know? There is too much feeling one might have and so how does one mediate these feelings that so often have no place, cannot be returned? For Li, one answer is to write, but this answer often becomes crippling because she still must attend to the physical world around her. Li leaves much opaque about her personal life, especially her relationship to her husband and to her children, but we have to read between the lines here. Li, for instance, takes much inspiration from Marianne Moore, one of the few writers it seems that is as opaque in her poetry as she is in her personal writings. Li understands that there is a limit to how much she can share, how much she can start to break out of the reclusiveness apparent in writing, so this collection of essays seems to be a courageous, but still tentative foray into a world in which she must acknowledge her attachments and those who are attached to her. What I especially appreciate is Li's frank depiction and nuanced consideration of suicidal thoughts, which she does not denigrate as somehow solely irrational. Li knows we live in a complicated, tortuous, but often also blissful, beautiful world. These incongruent facets no doubt become sometimes unbearable, intolerable even. If there is anything to understand about a writer's psyche, it may be that her greatest art is also connected to her greatest sense of insecurity: this pristine, intricately wrought, insular fictional world that I can construct is the one that I do not have the power to formulate in my own. For Li, this dynamic is terrifying, but something that we hope, that is I, the "dear reader," hopes she will come to navigate.
Buy the Book Here:
https://www.barnesandnoble.com/w/dear-friend-from-my-life-i-write-to-you-in-your-life-yiyun-li/1123772308#/
A Review of Sherman Alexie's You Don't Have to Say You Love Me: A Memoir (Little, Brown and Company, 2017)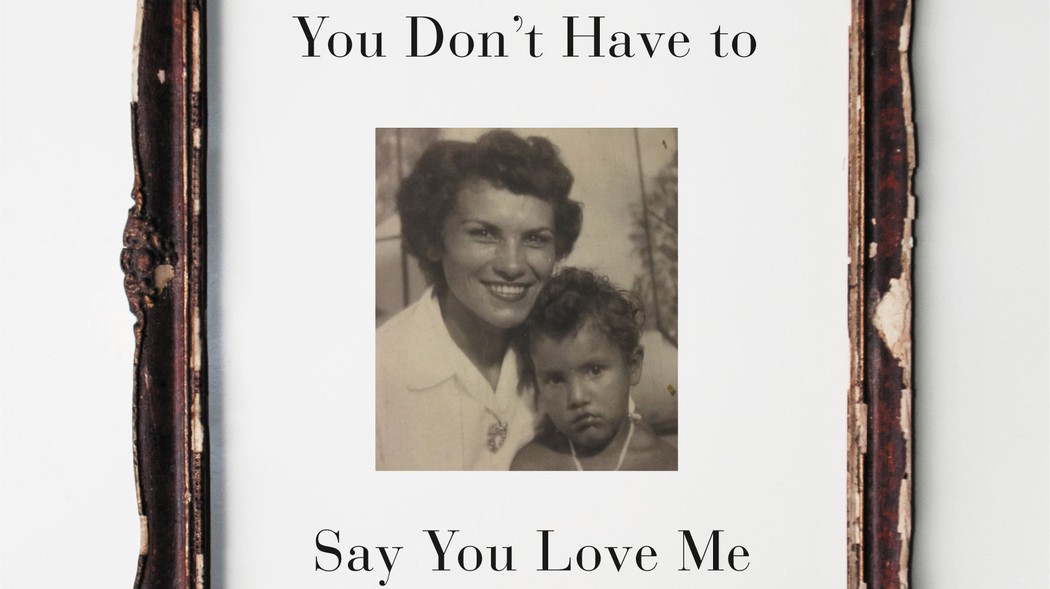 Wow! Well, I wish writers would always compose a memoir at some point, especially ones who are well known for their fiction (and their poetry in this case). B&N provides us with a pithy overview here: "When his mother passed away at the age of 78, Sherman Alexie responded the only way he knew how: he wrote. The result is this stunning memoir. Featuring 78 poems, 78 essays and intimate family photographs, Alexie shares raw, angry, funny, profane, tender memories of a childhood few can imagine--growing up dirt-poor on an Indian reservation, one of four children raised by alcoholic parents. Throughout, a portrait emerges of his mother as a beautiful, mercurial, abusive, intelligent, complicated woman. YOU DON'T HAVE TO SAY YOU LOVE ME is a powerful account of a complicated relationship, an unflinching and unforgettable remembrance." So you might be wondering: what does Alexie's memoir have to do with Asian American literature? Well, more than you might think. First off, I like to stray from the general guidelines once in awhile to explore allied works in the larger field of American literature. Second, one of Alexie's most pivotal mentors is none other than Alex Kuo, who gets multiple mentions in the memoir. We've reviewed some of Alex's work over here at AALF, so this kind of connection presents itself as an intriguing instance of a kind of cross-racial/ cross-ethnic connection, one that reminds me of the affiliations between the Aiiieeeee! boys and Ishmael Reed. In any case, the memoir is quite stunning: it reveals exactly why Alexie is a such a survivor. His father is an alcoholic, while his mother is someone that maintains her distance from Alexie. What becomes evident over the course of the memoir is that Alexie did not necessarily understand the ways in which his mother loved or might have loved him, and he goes about this memoir attempting to sort this issue out. It's not a strict prose memoir, as mentioned by the editorial description. Indeed, as Alexie mentions in the work itself: the structure is something akin to the quilting his mother was fond of engaging in, and there is a recursiveness that is essential to a form of working through. As Alexie desires to move past his melancholic subjectivity, he places into larger contexts the outright poverty and destitution his family had faced. There are some incredibly poignant and devastating passages, rendered beautifully through Alexie's always assured storytelling voice. For instance, there's a vignette concerning a pair of moccasins that he loses during a period in which his mother leaves him and his siblings in the care of his aunt. His aunt had given him these moccasins to keep him from crying, but once she discovers that he has lost them—as a result of bullying no less—he is savagely beaten by her. The import of this moment is multiple. On the one hand, Alexie clarifies the ways in which life on the reservation was difficult, that physical abuse was actually the norm. At the same time, Alexie himself had already seemed to understand, even at that tender and youthful age, that there might be a world constituted in a different way, somewhere else. Wherever that was could not be made evident until Alexie had somehow managed to endure and to forge his career as a writer. So casting back into this traumatic instance, he—and by the extension, the readers—come to understand exactly why this experience left such deep psychic scars. Even then, he had refused to allow this type of treatment to be something he would normalize, and in doing so, he would forge an ethos that would carry him forward and beyond the communities that were most abusive to him. But this psychic fortitude has its limits; his storytelling almost seems to function in a way as a shield, and it is clear that something monumental breaks inside of him once his mother passes on. A brilliant, but devastating work.
Buy the Book Here:
https://www.barnesandnoble.com/w/you-dont-have-to-say-you-love-me-sherman-alexie/1124300315
A Review of Joy Kogawa's Gently Toward Nagasaki: A Spiritual Pilgrimage, An Exploration Both Communal and Intensely Personal (Caitlin Press, Inc., 2017).
Well, when I had heard that Joy Kogawa had finally published another volume of work, I was excited to see what topic she'd be covering in her newest book. Of course, Asian North Americanists best know Kogawa for her brilliant novel Obasan (as well as its sequel Itsuka). Kogawa is also author of a number of other publications, including a number of poetry collections, the children's novel Naomi's Road as well as the controversial novel The Rain Ascends. It is the latter that is very much a part of the core of Kogawa's latest, which explores Kogawa's understanding of spirituality especially in light of her father's own demons, which as we discover are related to his incestuous acts, many of which were perpetrated during his tenure as a of the church. Here is the description from the publisher's site: "Gently to Nagasaki is a spiritual pilgrimage, an exploration both communal and intensely personal. Set in Vancouver and Toronto, the outposts of Slocan and Coaldale, the streets of Nagasaki and the high mountains of Shikoku, Japan, it is also an account of a remarkable life. As a child during WWII, Joy Kogawa was interned with her family and thousands of other Japanese Canadians by the Canadian government. Her acclaimed novel Obasan, based on that experience, brought her literary recognition and played a critical role in the movement for redress. Kogawa knows what it means to be classified as the enemy, and she seeks urgently to get beyond false and dangerous distinctions of 'us' and 'them.' Interweaving the events of her own life with catastrophes like the bombing of Nagasaki and the massacre by the Japanese imperial army at Nanking, she wrestles with essential questions like good and evil, love and hate, rage and forgiveness, determined above all to arrive at her own truths. Poetic and unflinching, this is a long-awaited memoir from one of Canada's most distinguished literary elders." What is intriguing about this description is that it completely avoids the emotional conflict at the center of this creative nonfiction's work: how does Kogawa come to understand her father as a perpetrator? She wrestles deeply with this question, one that becomes ever more political especially because her childhood home becomes the subject of restoration efforts that divide local communities. Some, for instance, are intensely vocal that Kogawa's home should not be considered a heritage site, especially given her father's actions. Kogawa can't seem to equate her father's actions against her personal experiences: he seemed to be a tender, even quiet father, but over the course of the work, she comes to see that her father may have been hiding another facet of himself entirely from his family. What is courageous about Kogawa's latest publication is her willingness to reveal her ambivalences. Early on, it becomes apparent that she is open to multiple sides of an argument. For instance, discourses surrounding nuclear proliferation and the use of nuclear energy continue to interest her, even ones that suggest that such energy use can still be harnessed in productive ways. This viewpoint causes strain in some of her friendships, but the point is: Kogawa is letting us know that she works a little bit more slowly. She needs to see the contours of an issue, a person, a discourse emerge over time because she commits wholeheartedly to a new way of thinking, a new mode of justice. It is perhaps this element of meticulous working through that is the most powerful. I have recently been able to read memoirs by writers such as Sherman Alexie and Yiyun Li, and continue to find that these works are sometimes ever more important to read because they help educators to teach their fictions with that much more nuance. And it is always a welcome moment when a literary giant such as Joy Kogawa graces us with her effortless, beautiful prose.
For more on the book go here:
http://caitlin-press.com/our-books/gently-to-nagasaki/
A Review of Tarun Shanker and Kelly Zekas's These Ruthless Deeds (Swoon Reads, 2017).
Tarun Shanker and Kelly Zekas's These Ruthless Deeds (Swoon Reads, 2017) is the second installment in a projected trilogy that began with These Vicious Masks. I'm not sure what the title of the last one will be, but it will have to start with the word "These." Call me psychic. Bad joke aside: for fans of a cross between X-Men and Jane Austen, you've come to the right place. Our cast of merry characters has reassembled to take on the forces of possible evil. Our plucky heroine, Evelyn Wyndham, is back, and she's unaware that her sister Rosamund is still alive (though a sort of clunky opening that could have been better prefaced). Evelyn eventually joins up with a group called the Society of Aberrations, which is lead by Captain Redburn (with the power to enhance or negate another mutant's powers) and his brother (who can project teleportation discs). Evelyn, by the way, has the power to heal others. The Society includes Miss Grey, who has the power to locate other mutants trough dreaming; Oliver, a young man with the ability to move through solid matter (like a ghost); Sebastian Braddock, with the power to disease or to kill people; Mr. Kent, with the power to ask anyone a direct question that s/he must answer truthfully; and Miss Chen, with the power to make an object crumble into pieces. There are also satellite figures and powers, such as some young individuals in training: a telekinetic, an individual who can turn others into pigs, another with the ability to fly, and then, an individual who can control plants. For those that are familiar with the X-men, the Society of Aberrations seems like a perfect analogue to that group. In fact, the parallels are so strong, there's even a version of Cerebro, the machine that allowed Professor X and others to locate other mutants. In this case, that power if given over to Miss Grey. But, the novel starts taking off once it becomes apparent that the Society of Aberrations has some questionable policies. For instance, at some point they go to India to apprehend a woman (Radhika Rao), with the power to control the weather (this fictional world's version of Ororo Munroe, aka Storm). She's considered a menace to society, so they're just supposed to get her, so they can lock her up in a prison. Evelyn is totally like: WTF? And her point is well taken because Radhika has never killed anyone, so her imprisonment doesn't seem have to a purpose, except if the secret head of the Society of Aberrations maybe isn't so gallant as the Captain claims this figure to be. The stakes get even higher when Evelyn teams up with Mr. Kent and Oliver to free Radhika from prison. Though they are successful, their stratagem results in their friends and loved ones being targeted by the head of the Society, so Evelyn and her band of upstarts realize that if they work against the Society's secret motives, then the lives of their families and loved ones will be in danger. Despite this form of blackmail, Evelyn realizes that she must get to the bottom of the Society's motivations, which means she must unmask the leader, purportedly someone who doesn't even have a superpower. This decision eventually leads to the final arc of the novel. Readers are, of course, burdened with a kind of cliffhanger, so we're left as putty in the fingers of Shanker and Zekas, desperately hoping that the listing for the next book will soon appear. Comparisons to X-men will never die down for this particular book, given all of these links, but Shanker and Zekas really work to make the narrative and world-building unique; the courtship melodramas in particular really provide this work with a dramedic flair that enriches the reading experience. Yes, we want so much for Evelyn to find a way to be with Sebastian Braddock, even if he might be betrothed to Mae Lodge. At the same time, what about the dashing, ever faithful and supportive Mr. Kent, always with the wry and witty comment to keep things moving? I couldn't help rooting for Mr. Kent all along the way and wonder where this particular triangle may move to in the 3rd book. Finally, Shanker and Zekas did have an extraordinary chance to really push this novel to the next level with the introduction of a character like Radhika Rao. I'm not quite sure if they were waiting to use her storyline more fully in the third book, but it's entirely underdeveloped here. The discourse that she uses to critique the Society as a colonial aggressor is quite politically engaged obviously and begins to lift this book into a different register precisely because it so strongly resists the ahistoricity and abstraction that can be common to the paranormal/ young adult genres. We'll hope that Shanker and Zekas can deliver at all levels in the final installment!

Buy the Book Here:
https://www.barnesandnoble.com/w/these-ruthless-deeds-tarun-shanker/1123806912#/
A Review of Riley Redgate's Noteworthy (Harry N. Abrams, 2017).
Riley Redgate is one of those mixed race Asian American authors who might slip through the cracks by virtue of the surname issue. These days you can't count on surnames to provide you with a clear indication of descent; a last name might sound ethnic but it may be the case that the name has a cognate OR that the individual in question may have taken a married last name OR the individual may be of mixed race ancestry (amongst other possibilities). I just happened to be googling some interviews when I came across Redgate's work. In any case, here is B&N with a pithy description for us: "It's the start of Jordan Sun's junior year at the Kensington-Blaine Boarding School for the Performing Arts. Unfortunately, she's an Alto 2, which—in the musical theatre world—is sort of like being a vulture in the wild: She has a spot in the ecosystem, but nobody's falling over themselves to express their appreciation. So it's no surprise when she gets shut out of the fall musical for the third year straight. But then the school gets a mass email: A spot has opened up in the Sharpshooters, Kensington's elite a cappella octet. Worshiped . . . revered . . . all male. Desperate to prove herself, Jordan auditions in her most convincing drag, and it turns out that Jordan Sun, Tenor 1, is exactly what the Sharps are looking for." Yea, so this passage provides us with the key plot conceit: Jordan Sun is cross-dressing in order to find her place at Kensington. What becomes evident is that Jordan's desire to be claimed by a musical group is more largely a desire to find a type of family unit beyond her parents. Over the course of the narrative, readers will discover that Jordan comes from a poor background, an economic status that puts her place at Kensington continually in peril. Partway through the novel, her mother loses her job, the family qualifies for food assistance welfare programs, and even the fact that Kensington is covering tuition, room, and board does not necessarily guarantee her place there. Indeed, the fees related to textbooks and other such costs are not covered. But the real issue is of course: when will the Sharpshooters find out that the 8th member in their midst is a biological female teenager? Redgate is astute enough to consider the political ramifications of this kind of performance, especially in light of recent discourses related to trans identity and gender constructs. Jordan does consider her own privilege in this process, while also negotiating the thorny place of her bisexuality in this quest to find a refuge at Kensington. Of course, the stakes start to get complicated once Jordan does get unequivocally included in this band of teenage brothers: how long will it be before she is found out and what will the ramifications be when her ruse is discovered? While this dilemma certainly fuels narrative momentum, perhaps more salient to this novel is the problem of Jordan's own positionality as an Asian American interested in the theater and performing arts. Her parents are leery of her career aspirations, which dovetail with the problems related to model minority dynamics. The novel complicates this issue by its exploration of class standing and the legacy of elite secondary institutions. Jordan's admittance and presence at Kensington defies the longer tradition of the WASP-centered student body that this particular high school has long nurtured. If there is an endangerment that the novel considers, it is in relation to this kind of eccentric Asian American subject, the one who dares to embrace the fine arts despite a problematic class background. Redgate's novel thus joins this rich tradition of Asian American narratives who undermine the model minority's insidious overlay concerning racial progress and postracial discourses. At the same time, fans of the high school novel/ young adult fiction will find much of interest as Jordan attempts to master her position in an all male acapella group. We'll see if Redgate has another installment in store of us!
Buy the Book Here:
https://www.barnesandnoble.com/w/noteworthy-riley-redgate/1124357852#productInfoTabs
A Review of Jomny Sun's Everyone's a Aliebn When Ur a Aliebn Too: A Book (Harper Perennial, 2017).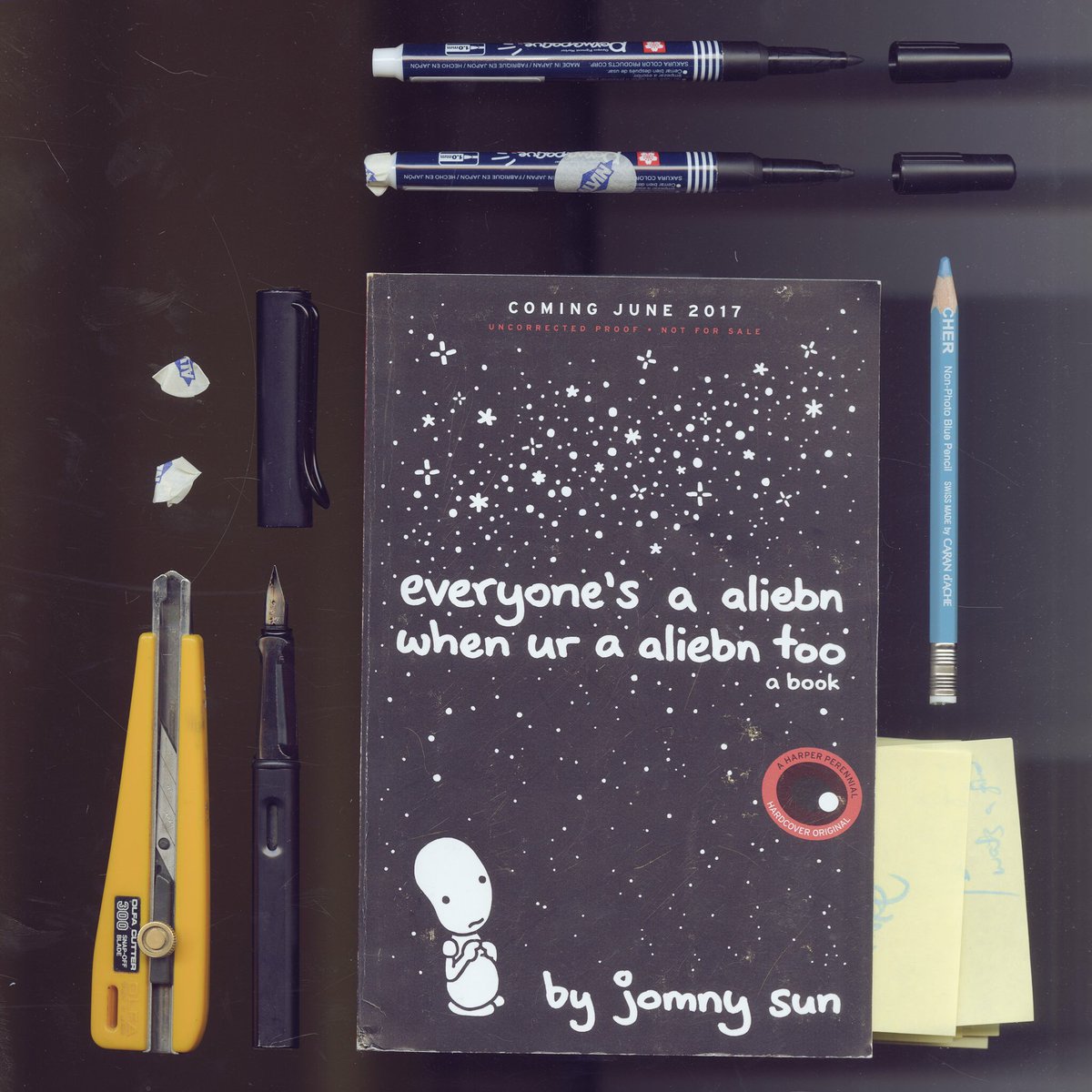 So, I was really intrigued by this title when I saw it listed because of the funktastic title and the spelling. As an professor who has taught some writing intensive classes, I just found the spelling aspect to be pretty hilarious. In any case, B&N gives us this useful description of the text: "everyone's a aliebn when ur a aliebn too is the illustrated story of a lonely alien sent to observe Earth, only to meet all sorts of creatures with all sorts of perspectives on life, love, and happiness, all while learning to feel a little better about being an alien—based on the enormously popular Twitter account, @jonnysun. Here is the unforgettable story of Jomny, a lonely alien who, for the first time ever, finds a home on our planet after learning that earthlings can feel lonely too. Jomny finds friendship in a bear tired of other creatures running away in fear, an egg struggling to decide what to hatch into, an owl working its way to being wise, a tree feeling stuck in one place, a tadpole coming to terms with turning into a frog, a dying ghost, a puppy unable to express itself, and many more. Through this story of a lost, lonely and confused alien finding friendship, acceptance, and love among the creatures of Earth, we will all learn how to be a little more human. And for all of us earth-bound creatures here on this planet, we can all be reminded that sometimes, it takes an outsider to help us see ourselves for who we truly are." I didn't realize that this graphic narrative is based upon a twitter account, so that was definitely news to me. The reading experience I had was unexpected. On the one hand, I did enjoy the strange tale, especially the creative use of spellings throughout, but I seem to have a similar reaction to any work that anthropomorphizes animals and other creatures. I sometimes have this nagging thought about why some animals get chosen to speak over others. In any case, one other important plot point is that the humans that the alien is actually looking for are completely misidentified, since he spends all of his time talking to things like trees, stumps, and animals. Over the course of his experiences, though, he realizes that there's much more to his life than the stolid ways offered by his alien peers. I couldn't help but wonder sometimes if there was an allegorical impulse behind this work, especially since I am always thinking of the "alien" as a stand-in for the Asian subject rendered as foreign, cold, unfeeling, and different. In any case, I suppose I can't justify the model minority critique of the work, even if I can't help but read the work in this elastic way. The drawings and sketching style lend themselves quite well to the lighthearted comedy that is threaded throughout; some may find the philosophical musings of the central character to be somewhat trite, but the graphic narrative is ultimately a fun, otherworldly journey.
Buy the Book Here:
https://www.barnesandnoble.com/w/everyones-a-aliebn-when-ur-a-aliebn-too-jomny-sun/1124859519#/
A Review of Ausma Zehanat Khan's Among the Ruins (St. Martin's, 2017).
Ausma Zehanat Khan is already back with another welcome installment in the buddy detective series following Rachel Getty and Esa Khattak. This very exposition heavy novel requires some definite context, so we'll let B&N take it away from here: "On leave from Canada's Community Policing department, Esa Khattak is traveling in Iran, reconnecting with his cultural heritage and seeking peace in the country's beautiful mosques and gardens. But Khattak's supposed break from work is cut short when he's approached by a Canadian government agent in Iran, asking him to look into the death of renowned Canadian-Iranian filmmaker Zahra Sobhani. Zahra was murdered at Iran's notorious Evin prison, where she'd been seeking the release of a well-known political prisoner. Khattak quickly finds himself embroiled in Iran's tumultuous politics and under surveillance by the regime, but when the trail leads back to Zahra's family in Canada, Khattak calls on his partner, Detective Rachel Getty, for help. Rachel uncovers a conspiracy linked to the Shah of Iran and the decades-old murders of a group of Iran's most famous dissidents. Historic letters, a connection to the Royal Ontario Museum, and a smuggling operation on the Caspian Sea are just some of the threads Rachel and Khattak begin unraveling, while the list of suspects stretches from Tehran to Toronto. But as Khattak gets caught up in the fate of Iran's political prisoners, Rachel sees through to the heart of the matter: Zahra's murder may not have been a political crime at all." I was impressed by this rather pithy description, and I'm not sure I could have managed to complete one like it, as Khan sets herself up for a huge project once she embarks on setting the novel in two different national locations. The previous efforts, while having strong transnational currents, did not see our main investigators separated by half a globe. The momentum waxes and wanes due to the shifts in location and context, and Khan is often mired by the historical and cultural exposition required to materialize the force and gravity of the Iranian political climate, which is quite precarious for Khattak. Khattak must contend with a rotating cast of characters related to something called the Green Movement, which is a revolutionary group looking to overturn the Iranian regime. They are of course allied with Zahra, especially as she was working on documentary type work that criticizes autocratic and totalitarian developments. Concurrently, Rachel is in Canada working on the bits and pieces of the case that emerge there, which necessarily involve individuals related to museums and archives. Khan adds a nice flourish to this plot because Rachel is also working on rebuilding her relationship to her younger brother Zach. Readers will recall that Zach had disappeared for quite a long time amid dysfunctional family dynamics, so much of Rachel's personal life appears wrapped around creating a new home for them both. The disparate strands and complicated cultural dynamics threaten the plot from spiraling a little bit out of control. Nevertheless, once some of the suspects start being fleshed out, Khan streamlines the plot and focuses finally on finding a way to reunify Getty and Khattak. If there is a big critique of this novel, it's that it risks so much in leaving Getty and Khattak separated from each other for the majority of the events. They're always better as a team, so the payoff, though being high, still can feel as though much had been withheld. As with Khan's other works, the scope of the novel leaves us always feeling jarred by the limitations of the detective genre. Though there is an attempt to determine justice at least on an individual level, larger questions of political freedoms that mire those involved in the Green Movement linger, leaving us with that ominous never fully resolved noir-ish conclusion.
Buy the Book Here:
http://www.barnesandnoble.com/w/among-the-ruins-ausma-zehanat-khan/1123683430