stephenhongsohn posting in

asianamlitfans
Asian American Literature Fans – Megareview for May 17, 2017
It's Asian Pacific American Month! Last year, I attempted a review writing challenge that nearly broke me. But I'm going to try again. I've been a little smarter about it this time, because I banked some of the reviews already (but not all). In any case, as per usual, I'm hoping to be matched in my challenge by a total of 31 comments (from unique users) by May 31st. We didn't quite reach that goal last year, but maybe we can this year. An original post by a user will count as "five comments," so that's a quick way to get those numbers up.
Challenge tally: me = 26 reviews; "you" = 6 comments (thanks Kai Cheang for his post and to eeoopark for a comment)… Come on folks! You can do it!
AALF uses "maximal ideological inclusiveness" to define Asian American literature. Thus, we review any writers working in the English language of Asian descent. We also review titles related to Asian American contexts without regard to authorial descent. We also consider titles in translation pending their relationship to America, broadly defined. Our point is precisely to cast the widest net possible.

With apologies as always for any typographical, grammatical, or factual errors. My intent in these reviews is to illuminate the wide-ranging and expansive terrain of Asian American and Asian Anglophone literatures. Please e-mail ssohnucr@gmail.com with any concerns you may have.
So this post focuses on books that are coming out of Penguin and Associated Imprints. I occasionally group these books together because they are all eligible to request under their CFIS program. Information for the CFIS program can be found here:
http://www.penguin.com/services-academic/cfis/
Instructors are eligible for five free exam copies per year; this service is perhaps the best exam copy service of all major publishers!
In this post, review of all Penguin titles (and Associated Imprints): Sarah Kuhn's Heroine Complex (Daw Books, 2016); Sabaa Tahir's A Torch Against the Night (Razorbill, 2016); Krys Lee's How I Became A North Korean (Viking, 2016); Marina Budhos's Watched (Wendy Lamb Books, 2016); Michelle Sagara's Grave (2017); Mohsin Hamid's Exit West (Riverhead, 2017); Katie Kitamura's A Separation (Viking, 2017); Marie Lu's The Midnight Star (G.P. Putnam's Sons Books for Young Readers).
A Review of Sarah Kuhn's Heroine Complex (Daw Books, 2016).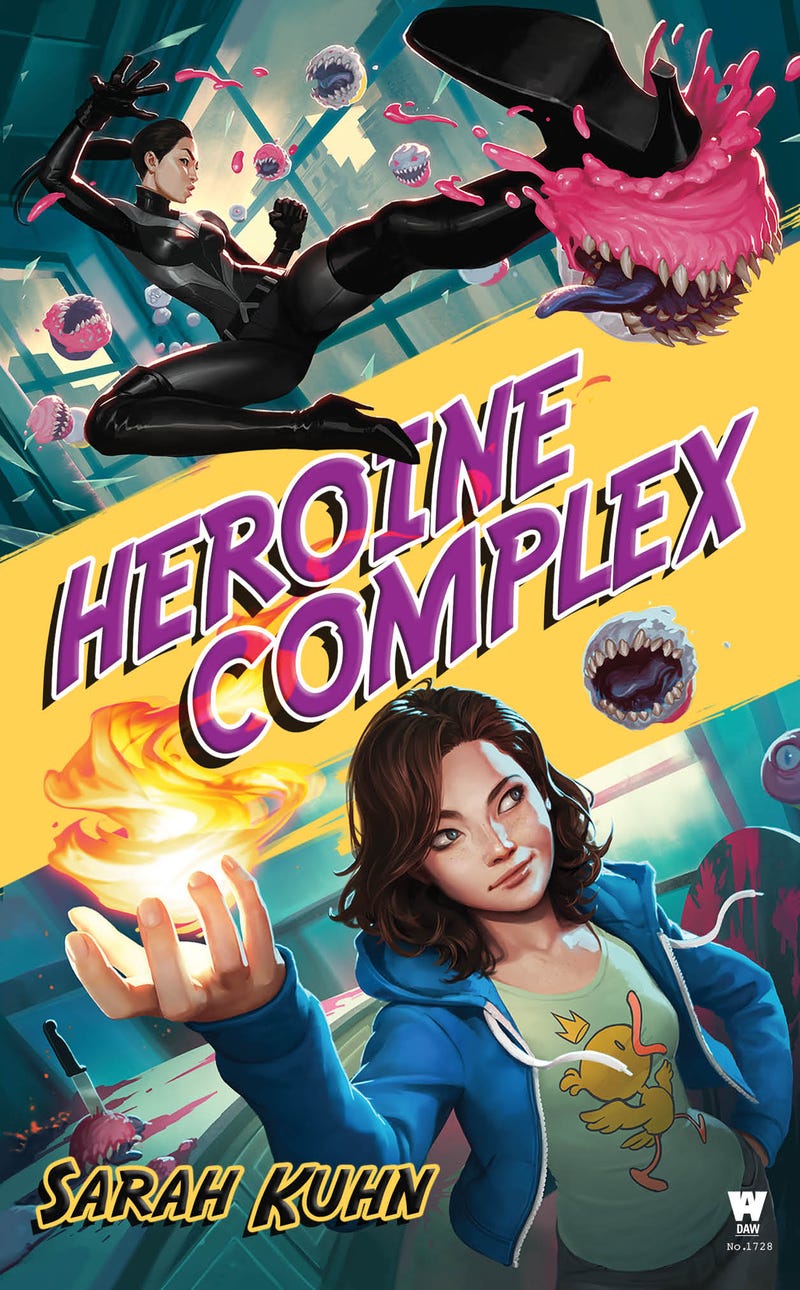 Well, I've been spending very long days revising critical writing, which is a kind of task that requires so much focus that the only thing I can manage to do after that, is to cozy up to a novel, potentially something more on the lighter side. After one such split infinitive filled day, I chose Sarah Kuhn's Heroine Complex (Daw Books, 2016), which was precisely the right choice. At first, given the title and the cover, I thought the book was a young adult fiction, but about half way through, an explicit sex scene made it quite clear I was not in that territory. This novel is something more like a paranormal romance, but with a comic tone. Indeed, what sets this book apart from many others is Kuhn's focus on the wit of its protagonist, Evie Tanaka, a mixed race Japanese American, who must learn to become something other than a sidekick to her best friend and superhero buddy known best by a superhero stage name: Aveda Jupiter. Evie is a firecracker: she drops joke-bombs constantly, referencing (questionable) popular culture like the television series 90210 (the original mind you) and songs like "Eternal Flame" by the Bangles. Evie even has the guts to call a song by The Backstreet Boys a power ballad. Yes, my friends. She's got guts. Aveda, like Evie, is Asian American. Aveda's "real name" is Annie Chang, which cracked me up, because I went to school with a girl named Annie Chang, who also happened to be Chinese American. Evie's originally part of Aveda Jupiter's superhero posse and entourage, folks who help with things like publicity (a lesbian named Lucy) and technological outreach (a handsome, nerdy, and super analytical guy named Nate and healing spells (Aveda Jupiter's high school crush, a guy named Scott). Evie also has to find time to take care of her younger teenage sister Bea, especially because their absentee Dad is traipsing all across the world with his yogini Lara. The novel is set in San Francisco, and world building is required because a select number of individuals have developed minor superpowers. Scott, Aveda, and Evie all possess some magical might that has developed from portals that come from the Otherworld, a place that also includes demons. Once this portal opens, others begin to open up, and individuals like Aveda make it a point to become superheroes in order to stop the tide of demons who come through. With comic flair, Kuhn makes it so that these demons can only enter our world through imprinting on the first Earth object that they see. In the opening gambit of the novel, this first object is a cupcake (because we're in a bakery), and these demons make it so that cupcakes have fangs and are trying to drain the life out of their human victims. When Aveda develops a serious leg injury and a serious zit outbreak, she encourages Evie to take on her persona in order to cover for her until she feels better, but once Evie becomes the substitute, other mayhem occurs. First, Evie's powers become revealed to the world at large: she's able to somehow invoke fire starting capabilities, though she does not know how to control her flame creating skills. Second, this new fire power makes Aveda gain lots of new followers on social media, so Aveda realizes that she has to keep Evie in her place until she can devise a plan to that would allow her to also develop fire powers once she gets back on her literal feet. But more trouble begins to brew when Evie notices a strange pattern in the way that the latest demons coming through the portal act: they seem to be more sentient, they seem to be more complex, as if they are evolving into something else. But I'll leave the plotting here to discuss other things, like the fact that at first, I thought I was going to hate the romance plot element. Nate, the handsome, technological expert with the bod of a beefcake and who becomes Evie's "orgasms-only" buddy begins to come off as something too good to be true. In other hands, this trope is hardwired into the paranormal romance. Indeed, the fact of the paranormal romance, especially in young adult fictions, is that this nerdy dude with the heart of gold and the body of gold is actually somehow destined for our not-so-ordinary extraordinary heroine, but Kuhn gives us lots of surprises in the concluding arc not only with Nate, but other characters as well. Even Aveda, who I found incredibly annoying, manages to find a measure of redemption because Kuhn knows how to generate some measure of charaterological development, thus moving this novel above and beyond many others in a similar genre and aimed for a similar audience. Only time will tell whether or not there will be a sequel, but signs suggest that there could be one, given the conclusion. Finally, I will say that as a once-upon-a-time reader of the X-Men comics, it is so refreshing to see a novel about superheroes written by an Asian American. It is truly a new era. When I was first reading those comics, you had the strangest storylines occasionally come up: for instance, there was a British mutant with purple hair named Betsy Braddock, who will later randomly get kidnapped, only to return to the X-Men team looking like an Asian ninja. You later find out that her psyche got swapped into another body or something like that and that she wasn't really Asian in the first place, but the whole storyline was so bizarre: didn't the other characters realize that just because the person who came back to the team had purple hair didn't mean she was the same person? Didn't they realize that she was Asian? LOL. I probably have some plot elements wrong, because it's been literally two decades since I read that one, but I remember at that time I was so confused. Looking back on it, I wonder about whether or not that storyline might have been different if an Asian American writer was behind the helm. An Asian American artist may have been on staff around that time (Jim Lee), but I can't remember. Fortunately, we're in a new era, and comic books are being developed by writers and artists in tandem, many of whom are Asian American. Further still, we're getting novels like the ones that Kuhn has written here in which we can see that Asian Americans are worthy of their own complicated, complex superhero plots, ready to save the world while defeating demons in the form of cupcakes. Yum.
Buy the Book Here:
http://www.barnesandnoble.com/w/heroine-complex-sarah-kuhn/1122789420#productInfoTabs
A Review of Sabaa Tahir's A Torch Against the Night (Razorbill, 2016).
Sabaa Tahir's debut, An Ember in the Ashes, was my favorite young adult fiction I read last year purely based upon the entertainment factor. I was convinced that she'd have a difficult time replicating the success she had with that narrative. I'm glad I was definitively wrong. The sequel is just as exciting and plot-driven as the first, and with all the requisite genre necessities that come with the paranormal romance, so fans of this kind of reading will not be disappointed. Our favorites return from the original, especially our primary character: Elias, the melancholic Mask, and Laia, the Scholar who seeks to break her brother out of the maximum security prison known otherwise as Kauf. Elias and Laia are on the run from the Empire, trying to find a way to get to Kauf. They eventually meet up with Keenan, a Scholar working for the Rebellion, and Izzi, who had been working with Laia when Laia was functioning as an undercover "slave" for the Commandant (in the first book). The other major plotline involves Helene, who has become the Blood Shrike and is forced to do the dirty work of the newly crowned emperor and winner of the Trials (from the first book), Marcus. Helene's quest is to bring back Elias and have him publicly executed. At every turn, her job seems to be made more difficult. Elias's mother, the evil Commandant, is undermining her authority, while assigning a spy (named Harper) to work as part of her guard detail. Of course, Tahir knows her genre tropes: each character must have their own love triangle. While Elias and Keenan battle for Laia's affections in one subtle way or another, Helene tries to figure out how she can avoid having to kill Elias, even if it means he gets to be with Laia. Oh, the torment! In any case, this novel is in many ways as bleak as the first one. Hordes of scholars are being butchered, and even the tribespeople, who sort of function as middlemen, cannot assume they are safe. Tahir also adds much more texture to the fictional world, as we discover crucial information about one of the primary evil, magical figures known as the Nightbringer and how he is connected to a spiritual plane that is presided over by the mysterious SoulCatcher. So, I definitely had to try to ration myself with this book, forcing myself to put it down every night, but on the third night, I gave up, and just read it to the finish. I especially appreciated how this book seems to function as a stand-alone. That is, there's enough of a set-up, exposition, climax and resolution for me to feel as though this book wasn't just a stepping-stone to a climactic final volume. Strangely enough, I always assumed this book would be a trilogy, though there were indications online that this series was supposed to be a Duology. Now, there are rumblings that this series is meant to have at least four books, and I'm not complaining at all, except for the 2018 anticipated release date of the next book. Two years? Ijustcant.
Buy the Book Here:
http://www.barnesandnoble.com/w/a-torch-against-the-night-sabaa-tahir/1122653618
A Review of Krys Lee's How I Became A North Korean (Viking, 2016).
So, Krys Lee moves out of the first publications club with her debut novel How I Became A North Korean (Viking, 2016). Lee is also author of the superbly melancholic collection Drifting House. The "I" of the title is perhaps the most intriguing element of this work, as it details another "form" of the passing narrative. Though we've typically reserved "passing" for racial registers, this novel offers a form based upon ethno-linguistic identifications. There are three narrators in this novel, involving alternating first person voices. As B&N tells it: "Yongju is an accomplished student from one of North Korea's most prominent families. Jangmi, on the other hand, has had to fend for herself since childhood, most recently by smuggling goods across the border. Then there is Danny, a Chinese-American teenager whose quirks and precocious intelligence have long made him an outcast in his California high school. These three disparate lives converge when they flee their homes, finding themselves in a small Chinese town just across the river from North Korea. As they fight to survive in a place where danger seems to close in on all sides, in the form of government informants, husbands, thieves, abductors, and even missionaries, they come to form a kind of adoptive family. But will Yongju, Jangmi and Danny find their way to the better lives they risked everything for?" Yongju and Jangmi are both North Koreans who are "forced" into harrowing crossings into China. Danny is actually an ethnic Korean, but part of a family who had lived in the border region of China (they are called "joseon-jok"). He and his father have moved the United States, but Danny's mother still lives in the Chinese border region. The novel's narrative threads move together once Danny travels back to China in the wake of what his father thinks is a failed suicide attempt. Once there he discovers that his mother is engaging in an extramarital affair. Confused and traumatized by this knowledge, Danny goes into a kind of hiding, where he meets up with North Korean teens, who are on the run from border patrol and any other entities. They eke out a meager living in the mountains, but for Danny, his becoming "North Korean" allows him a fraternity he never had. Jangmi eventually settles with them for a short time, before she leaves them behind (and stealing most of their important supplies). Jangmi's storyline is perhaps the most tragic given that she is forced into various kinds of human trafficking. Yongju connects most with Jangmi in this way because his own little sister and mother are likely sent into human trafficking sectors. The concluding arc seems all three reunited under the auspices of a missionary group, but this time together is very strained. They see their time with the missionaries as just another form of imprisonment, and they eventually crack under their sequestration. The crux of this novel is clearly Danny's presence, as he is the one who eventually is able to secure their release from missionary detention, but his narrative is quite exceptional. Indeed, Danny's willingness and voluntary "passing" as a North Korean more largely suggests that freedom cannot be won without incredible luck and good fortune. The larger contexts with which the novel dovetails reminds us that there are not going to be entities that will function to secure one's release under political asylum, which makes the eventual last page of the novel resound with a kind of Hollywood uplift. Fortunately, given all that these characters have gone through, we will want this brief moment of happiness for these characters. This novel would be very interesting to teach alongside something like Suki Kim's Without You There is No Us, as these cultural productions present two very different sides of North Korean culture and contexts.
Buy the Book Here:
http://www.barnesandnoble.com/w/how-i-became-a-north-korean-krys-lee/1123107416
A Review of Marina Budhos's Watched (Wendy Lamb Books, 2016).
I have enjoyed reading Marina Budhos's YA fictions in the past, so it was a treat to see that she had published a new work. In Watched, Marina Budhos fictionally depicts the plight of Muslim Americans/ South Asian Americans in the period following 9/11, especially under increased scrutiny by homeland intelligence agencies. Budhos, for those not entirely familiar, is the author of numerous works, including but not limited to The Professor of Light, Ask me No Questions, and Tell Us We're Home. The official site provides us with this description of the work: "Naeem is far from the 'model teen.' Moving fast in his immigrant neighborhood in Queens is the only way he can outrun the eyes of his hardworking Bangladeshi parents and their gossipy neighbors. Even worse, they're not the only ones watching. Cameras on poles. Mosques infiltrated. Everyone knows: Be careful what you say and who you say it to. Anyone might be a watcher. Naeem thinks he can charm his way through anything, until his mistakes catch up with him and the cops offer a dark deal. Naeem sees a way to be a hero—a protector—like the guys in his brother's comic books. Yet what is a hero? What is a traitor? And where does Naeem belong? " The basic premise is that Naeem is a troubled high school kid, who seems to be on the border of developing into a delinquent. His murky friendship with a peer named Ibrahim leads him to getting arrested for shoplifting, but once he is at the police station he is given an option: he can be charged for theft or he can work for the police as a kind of informant, spying upon any Muslim-related activities. Of course, Naeem doesn't necessarily take that option immediately: he realizes what is being asked of him. He rightly feels as though he is betraying his own religious community by spying on them, placing them under surveillance and encroaching on their religious freedoms. At the same time, he doesn't want to disappoint his hardworking parents, who run a small shop and are already on the edge of bankruptcy. When he sees a potential financial opportunity in this spy work, he reluctantly takes it on. For Naeem, home life is complicated by the fact that he is only ten years younger than his stepmother, the person who his father remarried after Naeem's mother died (when Naeem was five). He's struggling with school and discovers that he won't be graduating with his high school class; he is forced to take summer school classes in order to catch up. So, when the police officers him offer a deal instead of being charged, being a "watcher" seems to be the best possible option. Budhos's work is definitely one that could be taught and is part of a wonderful set of cultural productions that explore the complicated subject position of the Muslim American/ South Asian American in the period following 9/11. I would definitely pair this work alongside others, such as Mohsin Hamid's The Reluctant Fundamentalist and Ayad Akhtar's Disgraced. Of course, intriguingly, Budhos also joins a rather large set of spy/ surveillance fictions that include Chang-rae Lee's Native Speaker, Susan Choi's Person of Interest, and Ha Jin's A Map of Betrayal. I also very much appreciated that Budhos brings a kind of sophistication to the young adult genre that relies more upon character development than more of the formulaic plot elements such as the requisite teen romance.

Official Site (with purchasing information):
http://www.penguinrandomhouse.com/books/249905/watched-by-marina-budhos/9780553534184/
A Review of Michelle Sagara's Grave (2017).
Michelle Sagara's Grave finally concludes the Queen of the Dead series that began with Touch. I use the word "finally" because Sagara herself has stated that the final installment in this series was one of the most difficult books she ever wrote. She apparently went through many drafts and had thrown away multiple versions of the book. At some point a couple of years ago, I remember seeing listings of Grave on Amazon but there would never be a list date. I didn't understand why until Sagara herself addressed the issue in her acknowledgments. The first in the series was published in 2012. With YA trilogies, it's often typical for a series to complete in 3-4 years; there have even been cases where I have seen two from the same series published at opposite ends of the same year. In any case, the rapidity in the publishing cycle is in some sense necessary: readers are forgetful. I belabor my introduction because I was such a reader. When I cracked open Grave, I had practically forgotten all of the events in the series: all I could remember was that there was a main necromancer-figure who was constantly in danger of being killed. Emma, as I was reminded, had such powerful abilities that she rivaled the Queen of the Dead, who had been in a kind of underworld drawing on the energies of those who had passed and not allowing them to cross over into the afterlife. I didn't remember that book two saw some tragic events. Emma's best friend Allie is almost killed by a reanimated dead person (Merrick Longland); Allie's brother is shot and left for dead; and her cadre is on the run, which includes her other friend Amy Snitman and others such as Eric (another reanimated dead person), Chase (a necromancer-hunter), Chase's mentor Ernest, Emma's brother Michael, among others. By this time, Emma has bound some dead to her, which include a former necromancer named Margaret. Obviously, this final installment leads us to the cataclysmic encounter between Emma and the Queen of the Dead, who we come to understand was once a kind of necromancer herself. As a child, Reyna, AKA Queen of the Dead, was trained to become a necromancer by her austere mother (later known as the magar); Reyna also has a little sister named Helmi. Reyna's also in love with a boy named Eric (the same Eric who is helping Emma at the beginning of this novel). Reyna's family is tortured and killed for being witches, but Reyna does not die and uses her power as a necromancer to exercise revenge and to reanimate all of her dead loved ones. In this process, she closes the door that allows the dead to cross over into the afterlife. She draws upon their power to create an underworld, a dead city, devoted to preserving her love for Eric, while continuing to draw upon the powers of the newly dead. She creates a Citadel built literally on the souls and energies of the dead who are trapped in its walls, its floors, and its supporting structures. So, Emma's task is set before: destroy this Evil Queen. If there's a problem with this particular novel, it's just that there's not much going on until that final battle. Basically, the scoobie gang all head down to the Citadel and have to wait around until the Evil Queen makes her appearance. In the meantime, Emma has to learn a couple of skills, like how to use necromantic circles that can protect who is situated inside, while also getting the blessing of the Evil Queen's mother through the bestowal of a lantern that's meant to draw the attention of the dead. Of course, Sagara's point is not to keep the Evil Queen so evil; as the novel draws toward this inexorable battle, it becomes apparent that Reyna went into full Evil Queen mode because she wanted a place where she could be eternally connected with Eric and her family, who had been slaughtered. She was willing to enslave anybody who had died in order to preserve her very twisted version of love. The series might not be for everyone (after all, it's pretty dark when you think about a city made out of the souls of the dead who aren't able to cross over into the light) but if you've been faithful to the first two installments, the third is a must.
Buy the Book Here:
http://www.penguinrandomhouse.com/books/314790/grave-by-michelle-sagara/9780756409074/
A Review of Mohsin Hamid's Exit West (Riverhead, 2017).
So, Mohsin Hamid's fourth novel, Exit West (Riverhead, 2017), has been one I've been saving for at the right time. I'm always impressed by Hamid's verve as a fiction writer; none of his novels ever read the same. He always seems to be pushing himself in some way aesthetically and Exit West is no different. We'll let Publishers Weekly provide us with some viewpoints first: "Hamid's (The Reluctant Fundamentalist, How to Get Filthy Rich in Rising Asia) trim yet poignant fourth novel addresses similar themes as his previous work and presents a unique perspective on the global refugee crisis. In an unidentified country, young Saeed and burqa-wearing Nadia flee their home after Saeed's mother is killed by a stray bullet and their city turns increasingly dangerous due to worsening violent clashes between the government and guerillas. The couple joins other migrants traveling to safer havens via carefully guarded doors. Through one door, they wind up in a crowded camp on the Greek Island of Mykonos. Through another, they secure a private room in an abandoned London mansion populated mostly by displaced Nigerians. A third door takes them to California's Marin County. In each location, their relationship is by turns strengthened and tested by their struggle to find food, adequate shelter, and a sense of belonging among emigrant communities. Hamid's storytelling is stripped down, and the book's sweeping allegory is timely and resonant. Of particular importance is the contrast between the migrants' tenuous daily reality and that of the privileged second- or third-generation native population who'd prefer their new alien neighbors to simply disappear." This review does a great job of giving us the basics of the novel. What's most interesting is Hamid's strongest deviation from realist fiction through the metaphorical use of the "doorway." The "safely guarded doors" clearly relate to the figurative experience of migration. As with Hamid's last novel, the author seems less interested in specifics than in a fable-istic approach to storytelling. In this case, we're never sure what country Saeed and Nadia are actually from, possibly some location in South Asia, West Asia or the Middle East. The benefit of this type of storytelling is that it's obviously far more accessible to a wider audience, but at the same time, we also lose the specificity of context and history, especially concerning Saeed and Nadia's home country. As an interesting analogue, Hamid does choose to name other locations that exist beyond the doorways, including the aforementioned Mykonos, London, and Marin County. It becomes evident, too, that the historical trajectory of the novel is further into the past than one might think, especially because it seems as though Nadia and Saeed arrive in Marin County before its become gentrified. As with Hamid's many other novels, romance in this text, especially of the heterosexual variety, is incredibly complicated and pointed. Of the two, Nadia is definitely the more level-headed of the bunch; she is also definitely more jaded and closed off. Saeed is more idealistic, a dreamer that at first effectively balances the relationship through his quick smiles and hope for the future. Amid the exilic migrations, Nadia and Saeed attempt to maintain the purity of the feelings they developed in their home country when they were first courting each other, but over time, their connection seems to erode. Hamid's characterization perhaps suggests that they were never meant to be together over the long haul, but one can't help but wonder what chance their relationship ever had with all of these constant movements.
Buy the Book Here:
http://www.barnesandnoble.com/w/exit-west-mohsin-hamid/1123912669#productInfoTabs
A Review of Katie Kitamura's A Separation (Viking, 2017).
I was SUPER DUPER excited about this novel because I am a huge fan of Katie Kitamura's second novel, Gone to the Forest, which still (at least to my knowledge) has not received any critical attention. I had a really polarized reaction to this work, somewhat like my experience reading both Jung Yun's Shelter and Rowan Hisayo Buchanan's Harmless Like You. In this specific case, I immediately found the story compelling in its complex characterization of the issues at hand, but also found the characters themselves to be so dreadful that I found them difficult to want to read about. The titular separation is narrated from the perspective of an unnamed narrator, who travels to Greece to find her husband (named Christopher). Presumably, she's gone there to ask for an official divorce, so that she can take her own relationship to the next level, with a man named Yvan (who once was a friend of her husband's). Christopher is in Greece because he's researching a book that will be based upon mourning rituals. The narrator travels to the hotel where Christopher is staying; the flight is set up by Christopher's own mother Isabella, who has been asking the narrator about what Christopher is up to. Above all, the narrator wishes for discretion, so she tells Isabella nothing about the separation, but travels to Greece at her behest, and finally arrives in Gerolimenas, a coastal village that has seen better days. The hotel is full of intriguing characters, including the receptionist, who seems to have had a romantic dalliance with Christopher, who in turn we discover is sort of a lothario. Christopher is at first nowhere to be found, so the narrator creates a kind of unofficial disguise (and cover) for herself and decides to stay a couple of days until he shows up. She expects he's just gone to another part of the island while researching for the book. And here, I suppose I should provide a spoiler warning, because the novel hinges around another revelation that requires the narrator to reconsider her relationship not only to her husband but to her live-in lover Yvan. In some ways, once the novel moves into the second half, I began wondering about the allegorical nature of this work. The narrator, we discover, is a translator. She spends much of her perspective often musing about other characters, their motivations, even making up whole narratives concerning their lives that cannot always be substantiated. Her mode of speculation is in some sense a mirroring of the challenges she finds in translation, the leap between what is known and what can be reformulated through language. We begin to understand how little power she has over her husband, the circumstances of his disappearance, and ultimately, the unraveling of their marriage, even as she commands the central narrative space. She's not what I would consider to be an unreliable narrator, but there's still something aloof about her, a distance that makes it difficult to empathize with her, even as her observations about her life, about the Greek village and its inhabitants, about her in-laws get ever more pointed and achingly on-target. The novel leaves the readers suspended in the inadequacies of our terminologies related to rupture, especially as they become connected to our social norms and our desire to maintain a specific image of ourselves in relation to others. As the narrator must confront the fact that her separation will never be, in many ways, ever truly finalized, this state of limbo does not always make for the most compelling narrative resolution. We already know that what we know is ever-always partial, and Kitamura's brilliantly accurate narrative stylings can sometimes echo with too much reverb in this landscape, a fictional world filled with subtly violent mirrors, one nuanced distortion piling atop another.
Buy the Book Here:
http://www.barnesandnoble.com/w/a-separation-katie-kitamura/1123839503?ean=9780399576102
A Review of Marie Lu's The Midnight Star (G.P. Putnam's Sons Books for Young Readers).
Marie Lu's The Midnight Star is the conclusion to The Young Elites trilogy, which has been a sort of X-Men meets Italian-ish social contexts. We'll let the folks over at B&N provide a little bit of context for us: "Adelina Amouteru is done suffering. She's turned her back on those who have betrayed her and achieved the ultimate revenge: victory. Her reign as the White Wolf has been a triumphant one, but with each conquest her cruelty only grows. The darkness within her has begun to spiral out of control, threatening to destroy all she's gained. When a new danger appears, Adelina's forced to revisit old wounds, putting not only herself at risk, but every Elite. In order to preserve her empire, Adelina and her Roses must join the Daggers on a perilous quest—though this uneasy alliance may prove to be the real danger." So, the alliances of the prior book remain: Adelina is primarily working with Magiano, as she takes over new territories and lands. She's taking a Machiavellian approach to her rule, which is tempered by Magiano's suggestions that she provide the occasional gesture of kindness. Meanwhile, the elites are dying, and one of the first to show serious signs of sickness is none other than Adelina's sister Violetta, who by this time, has holed up with Raffaele and the other Daggers. Raffaele surmises that all of the young elites and those who have been marked by the blood fever are evidence that there is a divine impurity ruining the world. In order to prevent the destruction of all that they know, they must journey to the land of the Gods in order to give back their powers, but this quest requires Adelina and the other Daggers to put aside their rivalries and mistrust. They even must align themselves with mortal enemies such as Teren Santoro, while traveling far to gain the support of Maeve Corrigan, the Queen of the Beldain. As Raffaele suggests, they must find enough young elites with a variety of magical orientations in order to gain entry into the Underworld. Without the help of those like Santoro, they will have no chance. Lu's conclusion is certainly emotionally powerful. I couldn't help tearing up when the final pages occurred, though I was a bit underwhelmed by a common narrative conceit that I've been seeing in many young adult paranormal fictions. I won't spoil what that is, but suffice it to say that such storylines ultimately tug on the heartstrings in such a way as to feel a little bit manipulative. The other element that seemed a little bit of a letdown was the resurrection of Enzo, which ends up being more of a plot device than anything substantial. Given the kind of romantic triangle Lu so painstakingly plotted in the first two books, this development was certainly anticlimactic. In any case, fans of Lu will be delighted to discover that she already has a new title in development called War Cross, which is tentatively set to be published in 2017 and is apparently about teenage bounty hunters. Color me intrigued.
Buy the Book Here:
http://www.barnesandnoble.com/w/the-midnight-star-marie-lu/1123274331