stephenhongsohn
Asian American Literature Fans – Megareview for May 21, 2017
It's Asian Pacific American Month! Last year, I attempted a review writing challenge that nearly broke me. But I'm going to try again. I've been a little smarter about it this time, because I banked some of the reviews already (but not all). In any case, as per usual, I'm hoping to be matched in my challenge by a total of 31 comments (from unique users) by May 31st. We didn't quite reach that goal last year, but maybe we can this year. An original post by a user will count as "five comments," so that's a quick way to get those numbers up.
Challenge tally: me = 31 reviews; "you" = 7 comments (thanks Kai Cheang for his post and to eeoopark/ pylduck for a comment)… Come on folks! You can do it!
I've completed the challenge this year!!
AALF uses "maximal ideological inclusiveness" to define Asian American literature. Thus, we review any writers working in the English language of Asian descent. We also review titles related to Asian American contexts without regard to authorial descent. We also consider titles in translation pending their relationship to America, broadly defined. Our point is precisely to cast the widest net possible.

With apologies as always for any typographical, grammatical, or factual errors. My intent in these reviews is to illuminate the wide-ranging and expansive terrain of Asian American and Asian Anglophone literatures. Please e-mail ssohnucr@gmail.com with any concerns you may have.
A Review of Jason Shiga's Demon: Volume 1 (First Second, 2016).



I was totally stoked to see that Jason Shiga had a new graphic novel coming out, especially one with an intriguing title: Demon: Volume 1. We'll let the official MacMillan page provide us with some important context: "No matter how hard he tries, Jimmy Yee cannot die. A noose around his neck, a razor across his wrist, and even a bullet to his head all yield the same results: he awakes from each suicide attempt, miraculously unharmed, in his shabby room at the Sunbeam Motel. Has he gone mad? Or has he truly died and found himself in hell? Jimmy is willing to tear the world down around him to get at the truth. Highly analytical and utterly unscrupulous, he is uniquely suited to unraveling this bizarre mystery." So, first off, I'm going to have to provide spoilers, because it's impossible to discuss the narrative unless I can provide the central reveal. Apparently, Jimmy Yee believes he is a demon, and his demonic capability allows him to take the form of the closest person to him when he dies in a particular body. This thesis would explain Jimmy's experience waking up in a motel room, even after he has killed "himself." This revelation is reliant upon an intriguing graphic narrative conceit: that we are seeing the panels created from Jimmy's own presumptive perspective. That is, he believes he is at first waking up in the same body every single time, but he, in fact, has woken up in the body of the person in the next motel room. He doesn't have access to a mirror before he kills himself, and apparently, he doesn't take time to notice that his body might not be the same body as the time before. So, we have to give Shiga a little bit of room to suspend our disbelief (or consider the possibility that Jimmy's thesis is entirely wrong) in order to allow for the possibility that Jimmy is body jumping. Eventually, it becomes clear that there is a larger issue at hand related to body jumping, and that Jimmy may not even be the only person who is able to do so. But the graphic novel ends before we can get too much further into this larger "conspiracy" related to body jumping, and why there is someone after Jimmy for his abilities. I'm not necessarily sold on the decision to split graphic narratives into multiple volumes. There doesn't seem to be much logic around this move, except that it generates more income for publishers. Otherwise, I'm intrigued enough to see where Shiga's next installment goes, even if I think it could probably have been condensed into fewer volumes HAHA. As per usual, Shiga relies upon a sketchy cartoon style to make this particular graphic novel come to life. He's more on par with someone like MariNaomi than Adrian Tomine, who strikes a more realist tone to his images. The dark humor is probably best signature of Shiga's work, as it has been something that appears in all of his prior works in some form or another.
For more on the book and purchase links, go here:
http://us.macmillan.com/demonvolume1/jasonshiga
A Review of Jason Shiga's Demon Volume 2 (First Second, 2017) and Demon Volume 3 (First Second, 2017).
I read Shiga's sequels to the first Demon in one sitting. I should probably have waited for the fourth and presumably final installment to come out before reviewing these titles, but they basically retain the outrageous hijinks found in the first installment.
The second focuses more specifically on the titular demon, Jimmy Yee, and his quest to be reunited with his daughter Sweetpea and the individuals responsible for the car crash that almost claimed his life. As readers have already discovered (if they read the first installment), Jimmy is a demon. Whenever he dies, he takes the body of the person closest to him. Shiga continually uses this power to both morbid and comic effects. Early on in this work, Jimmy's still figuring out the extent of his powers and basically experimenting on himself. In one sequence, for instance, he kills himself next to a monkey enclosure and discovers that his body jumping powers are human specific. But the majority of this particular entry in the Demon series is really about Jimmy reuniting with his daughter, so he has to get past a bunch of officials who already are aware of his power and the fact that his daughter, too, has inherited the demon trait from him. There is apparently a governmental organization intent on cloning the powers of the demon not surprisingly related to the fact that it would allow this institution vast powers to control offices not only in the United States but also across the world. So, capturing Jimmy and his daughter is of paramount concern, as they attempt to perfect the "demonizer." Certainly, this plot is ridiculous, but compared against the many movies we see today, I suppose we can't fault Shiga too much for it. If there is any critique I had of this kind of work, it's that I sometimes didn't even understand what was going on in the panels because I wasn't sometimes sure who Jimmy was anymore or who Sweetpea was anymore since they presumably died and had taken on the body of someone else, sometimes someone outside of the panel plane. Shiga solves this problem only to a certain extent: so long as the person who just died and the next body are nearby, the "demon" always retains his own head at least to himself. In other words, while his psyche jumps to the next body, the demon sees himself in mirrors as himself, while others see him as the person the demon has jumped into. So, at least continuity across panels is ultimately created because the reader can see the demon as he sees himself. Nevertheless, Jimmy and Sweetpea die so many times and often with such rapidity, I still found myself a little bit disoriented.
The third installment is perhaps the most speculative of the bunch, as we've moved about a century into the future. Jimmy and Sweetpea have been in hiding, for fear that someone will find out about their existence and work to exploit their admittedly unique powers. This future is not so exciting: lattes now cost something like $80 and a night of sushi would be enough to bankrupt most millionaires (I'm being a little bit hyperbolic here, but not completely). Jimmy and Sweetpea exist in a sort of existential bind: what do they do with their time since they're basically immortal? Cocaine seems to be a nice way to waste endless years, which is something they snort, but this kind of plotting is all just a red herring: major antagonists from previous installments still exist, but the re-tread of previous plotting can seem tired. Shiga is prepared for the reader to be experience a little bit of ennui, which is why the ludicrousness achieves record levels in this work. Shiga definitely put tremendous thought into the problems of keeping a demon contained within a prison. As one of the major antagonists reappears from the earlier works, he must attempt to keep Sweetpea circumscribed in a finite area through the tactical use of obstacles and specific types of human bodies. Obviously flouting politically correctness, Shiga, for instance, employs conjoined twins as one of the useful detriments to the demon's powers. As such, the courtyard of the prison housing Sweetpea contains numerous conjoined twins, which would necessarily create a significant challenge for a demon, who would have to find ways to deal with psychic transference within the same body, thereby slowing body jumping down. The levels of ingenuity here are obviously grotesque, but with a work like this one, Shiga went all in. My one minor quibble with this particular entry is that I wish Shiga had done more work with the panels, especially in the futuristic era. Shiga's cartoon-ish style, I think, works best for the topic given its craziness, but at times, I wouldn't have minded a sweeping panel even in Shiga's signature sketch styling that gave a more panoramic view of the future, something along the scale of a vista you might even seen in Shaun Tan's work.
There is one particular scene (I can't recall if it was in Volume 2 or Volume 3) that will perhaps remain one of the most jarring I have ever witnessed and read in a graphic novel (and that includes the scenes of cannibalism in Liu's Monstress) that both made me laugh out loud and cringe so deeply inside I think the neighbor across the street probably heard me. I would be willing to bet that anyone whose read the series knows the sequence I am talking about. I would still rank it behind the scene from the 9th episode of Fortitude Season 2, but the outrageousness is still pretty on par. This series is not for the faint of heart, and Shiga knows it. This series is undoubtedly offensive, but it's also immensely readable: it's like that catastrophically bad roller coaster sequence in Final Destination 3: it's going to be gruesome, but somehow you can't look away.
Buy the Books Here:
http://www.barnesandnoble.com/w/demon-volume-2-jason-shiga/1123426274
http://www.barnesandnoble.com/w/demon-volume-3-jason-shiga/1124116019
A Review of Thi Bui's The Best We Could Do (Harry N. Abrams, 2017).
It's hard not to want to compare Thi Bui's The Best We Could Do (Harry N. Abrams, 2017) to G.B. Tran's Vietnamerica, so I'll try to avoid doing so. As a note, both are FABULOUS, so don't let that comparison draw you away from either. Bui's graphic memoir focuses on a kind of familial recovery narrative. The graphic memoir opens with the birth of Bui's son, a cause for much celebration, but also of reflection. The difficult labor is one in which her own mother cannot stand to be in the same room, despite the fact that Bui's mother gave birth to six children of her own. At first, it's obviously unclear why Bui's mother might have been so affected by Bui's long delivery period, but the narrative unfolds to clarify the problems of conception that have been tied to the family given its traumatic history, one inevitably altered and disrupted by the course of the war. Bui, in particular, becomes the chronicler of family history, compelled to look back and figure out why the rupture between her mother and father became so deep, one that lead to an eventual divorce. As the readers discover, Bui's father had to endure a rocky upbringing involving unstable guardianship. By the time Bui's father meets the woman who will be his wife, the stage is already set for more turmoil given his background. Bui's mother, by contrast, grows up in more idyllic circumstances, but the obvious rise of conflict in Vietnam will soon alter her life's course as well. The initial years of marriage are placed under incredible strain due to the rising conflict in Vietnam. Obviously, things only get worse as 1975 approaches. Once South Vietnam falls and the Americans have evacuated, Bui's family remains in Vietnam, waiting for the right opportunity to leave. They eventually secure passages on a boat, but there is no guarantee that they'll be found at sea. Here, the narrative treads the ground of some other works that have shown how perilous that particular sea bound passage can be, but fortunately for Bui's family, they are able to make it to a refugee camp with relatively little complications. Bui's family eventually chooses to settle in the United States. Though their lives take many more years to come to any sense of security, the family's hardscrabble background positions them well enough to navigate the tricky terrain of American acculturation. What Bui's graphic narrative does so well is that it does not remain rooted in sentimentality. The recovery narrative that spurs Bui in the first place is never quite completed in some sense, and she's well aware that her decision to delve into her family's past cannot help many of the ruptures nor will it necessarily bring her family closer together. But, what is obviously crucial for Bui is that it gives her a stronger sense of context and a much larger appreciation for her parents as survivors. My one minor critique of this exceptional memoir is its framing conceit around the reproductive future. While I can certainly understand the critical importance of intergenerationality in the transnational family saga, it did make me wonder about what kind of tomorrow is available for the migrant child who chooses not to enter into the heteronuclear social structure for one reason or another. Finally, I was incredibly happy to see that the entire memoir is PAGINATED, which means I will be sure to adopt this work for future courses!



For more on the book, go here:
http://www.abramsbooks.com/product/best-we-could-do_9781419718779/
A Review of Ed Lin's Incensed (Soho Press, 2016).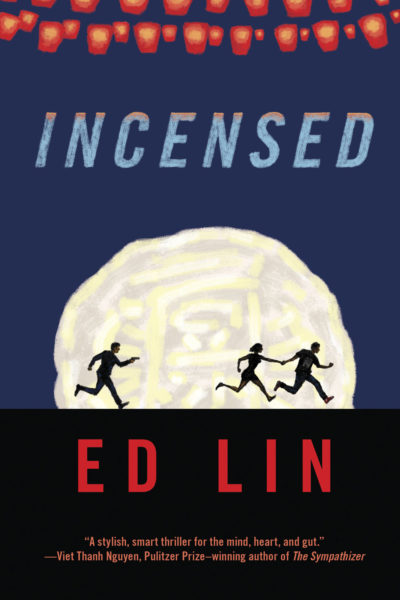 Ed Lin's Incensed (Soho Press, 2016) is part of the Taipei Night Market series that began with Ghost Month (2014). Our first person storyteller and armchair detective, Jing-nan, is back for more Taiwan-based hijinks. Let's let B&N provide us with some contexts here: "In Taiwan, the Mid-Autumn Festival is a time for prioritizing family. When 25-year-old Jing-nan's gangster uncle, Big Eye, asks a favor, Jing-nan can't exactly say no, especially because two goons are going to follow him around to make sure he gets it done right. The favor is this: Big Eye's 16-year-old daughter, Mei-ling, has a biker boyfriend from the wrong side of the tracks—in Big Eye's gangster opinion—and Big Eye wants Jing-nan to bring her to Taipei, away from the bad influences, and straighten her out. It doesn't take Jing-nan long to discover Mei-ling is even more trouble than the average bratty, rebellious teenager. She's been spoiled rotten and doesn't know how to take no for an answer. She has her father's thugs wrapped around her finger and quickly becomes the miniature dictator of Jing-nan's life. But Mei-ling is also hiding a secret—one that puts her in harm's way. If Jing-nan wants to save his cousin from her own demons, he has to figure out the truth, even if it tears his family apart—again." The other thing I'd add to this editorial description is that Lin surrounds his main characters with a supporting cast that beefs up the comedic tonalities of the novel. Additionally, while Jing-nan has to balance his caretaking act alongside keeping his girlfriend Nancy satisfied. As Jing-nan continues to find success through his Night Market food stall (called Unknown Pleasures in a nod to the album name by Joy Division), Nancy sometimes rails against what she perceives to be a kind of apolitical attitude Jing-nan espouses. Crucial to this novel is the global movement around queer equality. Nancy's activist connections, for instance, are trying to champion for more social and cultural recognition of Taiwanese queers and LGBT communities, a stance that certainly puts her at odds with many of her peers. Jing-nan must face up to some of his homophobic tendencies in order to support Nancy's causes, while also coming to the realization that he must embrace a more cosmopolitan attitude in the way he understands his own family. If there was a letdown for me concerning this novel, it occurs with respect to the mystery and thriller elements. The book seemed marketed in this vein, but this type of plotting device does not even occur probably until well over half the novel is already over, so I think it wasn't quite right to publicize this novel through those generic conceits. The other thing to note is that you should NOT read this novel if you're hungry. Lin goes all in with "food pornography," especially because the narrator is a purveyor of trendy and tasty dishes. Often times, the characters would be at some sort of new, hip establishment trying out a savory, delectable dish. Reading this novel right before bedtime became difficult simply due to the fact that I had to retain control over my desire to start snacking. Finally, one of the biggest strengths of this novel is the delicate way that Lin portrays Jing-nan's complicated affiliations and loyalties. Despite understanding that his uncle is quite crooked, there is a sort of filiality that he feels he must maintain. This pressure no doubt emerges precisely because Jing-nan cannot claim very many people as part of biological family structures. For better or for worse, Big Eye and Mei-ling are the closest he has to that kind of family, so he suffers under this obligation. It remains to be seen whether or not there will be another installment in the Night Market series, but it seems evident that Jing-nan may have to make a choice between staying true to his sense of personal ethics and maintaining ties to his gangster Uncle. As always, Lin's comic tonality makes this reading experience one that brings forth both intrigue and laughter.
Buy the Book Here:
http://www.barnesandnoble.com/w/incensed-ed-lin/1123237298#productInfoTabs